My paternal grandfather, C.H. Perry, was a cook (Ships Cook First Class - SC1) on Navy ships during World War 2. According to my father, one of these ships was PGM 24.
NavSource says PGM 24
was a Motor Gunboat / Patrol Gunboat.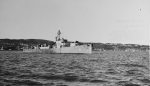 Click the image to go to the larger version on the NavSource website.